Frequently Asked Questions
Are the Kits beginner friendly?
Yes! We also give a guidance sheet, that has some tips and tricks as well as a reference image.
This makes it easy for you to paint the picture.
Can I gift this kit?
Absolutely! We provide free shipping, and you can gift this kit to a friend / family member to get them to try something new!
Do you have DIY Kits for children?
Some of the designs are so simple, that a child can color within the printed outline easily :)
These kits are made for any age group!
"My friend and I had a really great time today. It was a pretty fun workshop and the artist is amazing at what she does! Would definitely come back when I can :)"
Savitha Sugumaran
"Extremely welcoming , lovely host . Very therapeutic . Totally worth it . Will definitely be back . Thank you for the lovely experience!"
Vanlalhruaii Hnamte
"We had an amazing team activity during our US Exec's visit & everyone in the team enjoyed it thoroughly. Thank you."
Smitha SR, ThoughtSpot
"This was my first time participating after missing out several times. I'm so glad a studio has opened up close to my home and I'm definitely planning to visit more. Nishka was a really fun and interactive instructor and made everyone feel at ease and might have actually unlocked a new hobby for me! So yay Nishka! Thank you! Hopefully I'm back painting there soon again."
Aditya Deshpande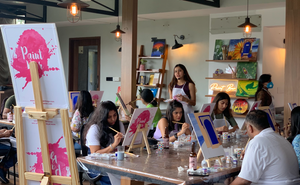 90% of our customers have never painted before!
Whether you're an artist or a complete beginner, our workshops are designed to help you unleash your inner creativity and produce beautiful works of art with step by step instructions from an artist.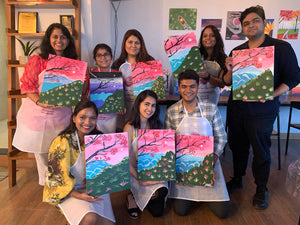 Meet new people, try something new and take home a masterpiece! 
We're all about creating a space that's fun and stress-free! Interact with new people, paint with a great view of Sankey Tank, sip on your drink and listen to music while you paint!