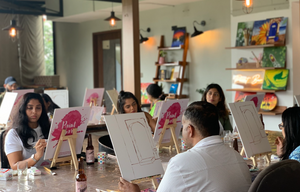 Paint Bar was Founded in 2017 with a simple of idea of bringing people together to try something new.
In just a couple of workshops, the business grew into corporate & private events as well.
We've conducted workshops in Bangalore, Mumbai, Goa and Kochi.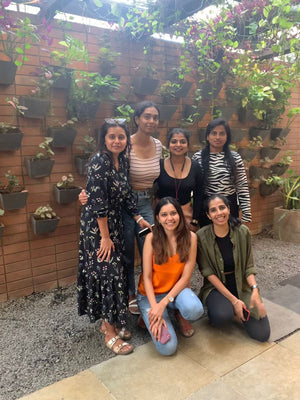 Meet the team!
All women, by co-incidence! :)
We have a small team compromising of an admin, Business head, artists, and a social media manager!
Nishka Mehta, Founder & Artist
A Business Management graduate from Christ University, Bangalore and the founder of Art Beat ,which she has been running for 9 years now. She's also one of our Artists at Paint Bar. Nishka is an extremely lively instructor who makes the Paint bar sessions interactive and fun. She believes that art is for everyone and ensures you take home a proud piece of artwork and lots of good memories from the paint party!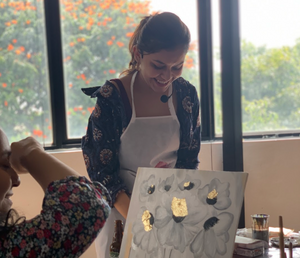 Sneh Chawla, Business Head
With a PG degree in Advertising, she has a versatile work experience of working at the prestigious Delhi Art Gallery to help painting streets of Mumbai with Bollywood Art Project to conducting events at Bangalore's favourite store - Go Native. She believes "No work is too small" and is always eager to learn and experiment. She loves the hustle and craziness of life and believes that life is a big, dramatic and an entertaining book that one has to fill pages for self.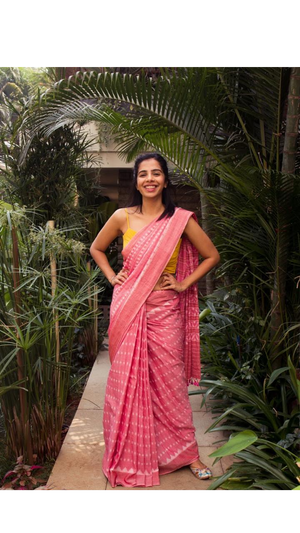 Anjali Yenuga, Social Media Manager
A business undergraduate student from PES university, Bangalore specialised in marketing. She finds her interests in managing events, networking and social media. With her talks, she can break the ice even at the highest points and make the surroundings more comfortable.
She likes how everything is systemic and process-oriented, and takes efforts to get what one wants simultaneously figuring out what's the best for her.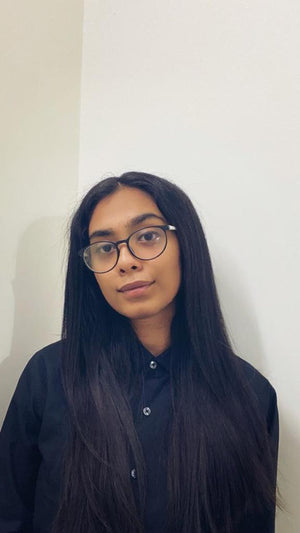 Meet the artists!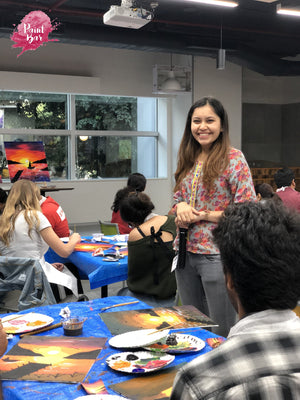 Nishka Mehta
Apart from being the founder, Nishka is mostly seen at our workshops teaching everyone how to paint! She's painted 65 wall murals till date, and is now helping more people paint! She always has a smile on her face and is an extremely lively instructor.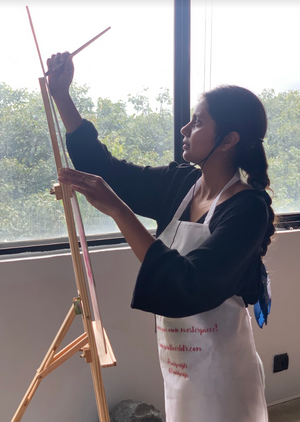 Nishitha Gowda
An artist, event stylist, graphic designer & more! She started off as our social media manager and is now an artist with us. She always keeps the vibe high, and is a patient instructor!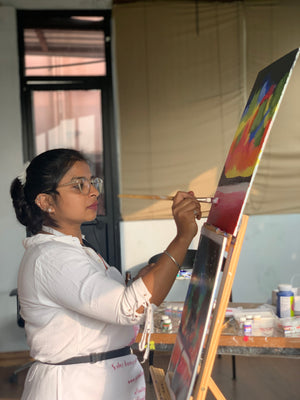 Pavana G
A self taught artist & yoga instructor, Pavana has been teaching people in different ways for years now! In her spare time, she tries new mediums of art!
"My friend and I had a really great time today. It was a pretty fun workshop and the artist is amazing at what she does! Would definitely come back when I can :)"
Savitha Sugumaran
"Extremely welcoming , lovely host . Very therapeutic . Totally worth it . Will definitely be back . Thank you for the lovely experience!"
Vanlalhruaii Hnamte
"We had an amazing team activity during our US Exec's visit & everyone in the team enjoyed it thoroughly. Thank you."
Smitha SR, ThoughtSpot