Frequently Asked Questions
Can Beginners join for Paint Bar workshops?
Yes! We give step by step instructions, while an artist paints with you. We also provide all the materials for the workshop. We make it as easy as possible for you to paint, even if it's your first time! 
What are the materials you give us during the workshop?
We give you an easel [ the stand on which the canvas is placed] , a 12*16 inch canvas, paints, brushes, tissue, a water bowl, palette, apron. We only take back the easel and the bowl of water at the end of the workshop. Everything else is for you to take back with you! 
If we book a ticket for a workshop and can't make it on that day, do you provide refunds or cancellations? Can you move our ticket to another event?
We do not refund tickets for events, once purchased. The tickets are non-refundable and cannot be transferred to any other date. A refund will be initiated only if the event is cancelled / postponed by us, due to unforeseen circumstances.
Are Kids allowed at all your workshops?
We have kids workshops, exclusively where kids above the age of 4 can sign up. Alternatively, your kid can attend any of our regular workshops too - since we break down the painting into simple and easy steps! 
Can I gift a workshop to someone?
Yes, you can! Purchase a gift card here :Buy a Gift card
We have gift cards of ₹500, ₹1000, ₹2000, and ₹3500 
Please note : Our gift cards have a one year validity, and are non-refundable.
Do you host events for Teams or Corporate workshops?
We've held workshops for more than 30+ Organisations. Paint Bar is a unique way to bring your team together, and unleash their creative side! We've even held workshops for 100+ people at a time. All you have to do is fill this form, and someone from our team will reach our to you with all the details : Contact Form
Do you host online workshops?
Yes, we do - if it's a private or corporate event! We ship the kits to the respective locations and host the workshops over zoom / your preferred platform. 
Which city are we based out of?
We are based out of Bangalore! However, we've held private workshops in Goa, Bombay, and Kochi too! We love to travel and make anyone paint :) 
Where is your studio located?
Paint Bar, 4th Floor, Sahukar's, Above Wonderslate office, 8th Main, 10th cross, Sankey tank, Sadashivnagar, Bengaluru, Karnataka 560080
Link to Google Maps : Find us here
"My friend and I had a really great time today. It was a pretty fun workshop and the artist is amazing at what she does! Would definitely come back when I can :)"
Savitha Sugumaran
"Extremely welcoming , lovely host . Very therapeutic . Totally worth it . Will definitely be back . Thank you for the lovely experience!"
Vanlalhruaii Hnamte
"We had an amazing team activity during our US Exec's visit & everyone in the team enjoyed it thoroughly. Thank you."
Smitha SR, ThoughtSpot
"This was my first time participating after missing out several times. I'm so glad a studio has opened up close to my home and I'm definitely planning to visit more. Nishka was a really fun and interactive instructor and made everyone feel at ease and might have actually unlocked a new hobby for me! So yay Nishka! Thank you! Hopefully I'm back painting there soon again."
Aditya Deshpande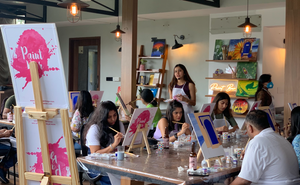 90% of our customers have never painted before!
Whether you're an artist or a complete beginner, our workshops are designed to help you unleash your inner creativity and produce beautiful works of art with step by step instructions from an artist.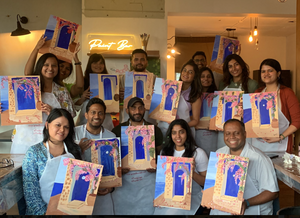 Meet new people, try something new and take home a masterpiece! 
We're all about creating a space that's fun and stress-free! Interact with new people, paint with a great view of Sankey Tank, sip on your drink and listen to music while you paint!