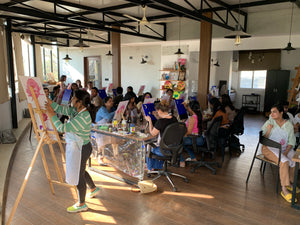 Team Outings
The perfect way to spend time with your team, is to get creative! Join us for a team outing at Paint Bar.
How it helps your Team
Paint Bar workshops help foster creative growth, brings team together in a new environment, helps relieve stress and also gives a sense of accomplishment to the participants.
"My friend and I had a really great time today. It was a pretty fun workshop and the artist is amazing at what she does! Would definitely come back when I can :)"
Savitha Sugumaran
"Extremely welcoming , lovely host . Very therapeutic . Totally worth it . Will definitely be back . Thank you for the lovely experience!"
Vanlalhruaii Hnamte
"We had an amazing team activity during our US Exec's visit & everyone in the team enjoyed it thoroughly. Thank you."
Smitha SR, ThoughtSpot